Flight simulator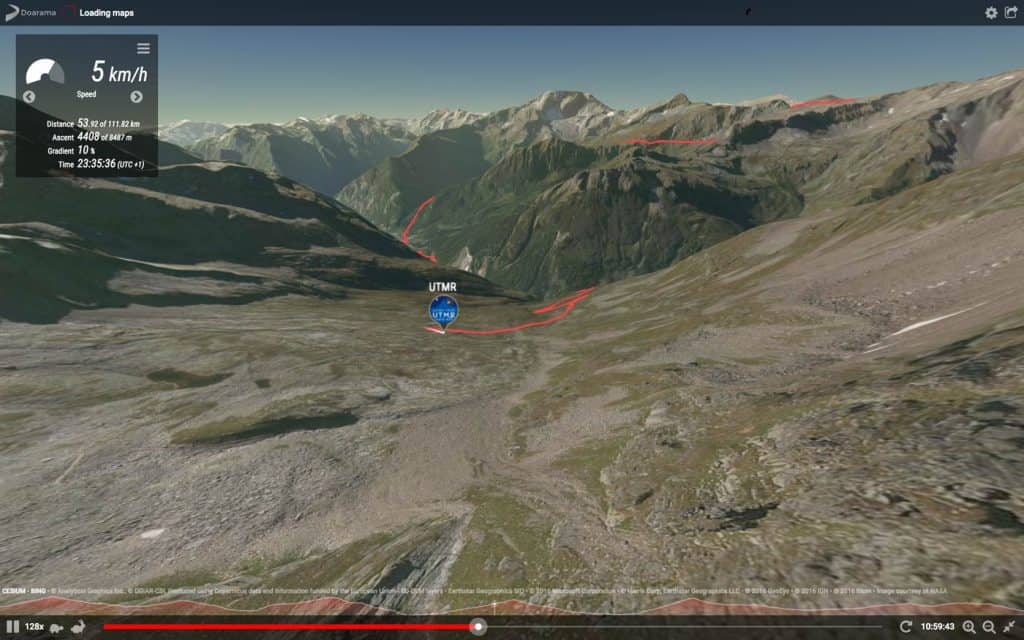 What runners think…
How it looks
Ultra 3 passes profile

Checkpoints, distances, elevation and cutoff times
START
Gressoney-la-Trinité
0.0
0.0
↑ 0
↓ 0
–
Gabiet
13.2
13.2
2355
↑ 1272
↓ 547
CP8
Passo dei Salati
3.5
16.7
2961
↑ 580
↓ 0
CP9
Alagna
10.6
27.3
1169
↑ 160
↓ 1948

16:30

Fri, 03 Sep
+
Colle del Turlo
11.7
39.0
2701
↑ 1657
↓ 94
CP10
Quarazza
8.5
47.6
1382
↑ 18
↓ 1338
CP11
Macugnaga
5.8
53.3
1310
↑ 140
↓ 230

0:00

Fri, 03 Sep
CP12
Passo Monte Moro
6.5
59.8
2789
↑ 1458
↓ 0
CP13
Saas Fee
16.6
76.5
1792
↑ 324
↓ 1279

8:00

Sat, 04 Sep
CP14
Hannigalp
17.1
93.6
2123
↑ 1110
↓ 785
FINISH
Grächen
3.8
97.4
1618
↑ 0
↓ 507

13:00

Sat, 04 Sep
Water
Snack
Meal
Firstaid
Ambulance
Dropbag
Rest
DNF notes:
PDF maps
PDF Map A 1:50000
PDF Map B 1:50000
PDF Map C 1:50000
GPS tracks
GPX File
KML File
NB right click and "Save As"
ITRA
ITRA
Trace de Trail
Results
2018
2017
Logistics
The start in Gressoney, Italy and the finish in Grächen, Switzerland are separated by 250 km and an international border, so the logistics are complicated! It is difficult to travel between Grächen and Gressoney by public transport so we provide an option to book our shuttle bus from Grächen to Gressoney before and after the race. We also offer an option to book a race hotel near the start location in Gressoney, sharing with another runner. Of course in any case we transfer your baggage (up to 12kg) to the finish line, and we provide you with one dropbag that will be available for you at Macugnaga, the 55 km point.
100 km 3 Passes Logistics Information
Route Description
Gressoney-la-Trinité is a village and comune in the Valle del Lys, part of the Aosta Valley region of northwestern Italy. Here starts the race!
You'll have a great send off from the church square right in the centre of this traditional Walser village. With a gentle riverside trail to the ski station of Stafal to warm up, your first challenge is the 1000m climb up to the Colle Salza (2882m). From here you'll be rewarded with superb views onto the glaciers of Monte Rosa and the Gabiet valley. A short descent to the checkpoint at Gabiet leads you onto the main route of UTMR and you'll be following a few hours after the 4-Stage runners and last of the 170km Ultra Tour runners have passed.
The next climb brings you to the Passo dei Salati (2980m), the first of your "three" major cols. On a clear day from here you can see right down to the plains and the city of Milan. Take a moment to look! This pass can often mark a change in microclimate so be prepared. Soup and hot tea will be available at the checkpoint and our passionate volunteers waiting to welcome you and encourage you on your way. It's a long and tiring descent to Alagna so stock up.
Alagna is beautiful and another very traditional Walser village. Watch this to see a little bit more of that part of the route! Make sure to rest a bit here, the pull up to the Colle del Turlo is long and tiring … you'll climb 1545m in just about 12km. In Walser language Türli means small door and this is your gateway into the Val Quarazza. The mule track you follow was built by the Alpine battalion of Intra as a military exercise in the 1920's but look carefully and you can see also traces of the ancient paved path of medieval origins which would have been traveled as far back as the thirteenth century by the Walser population. Paving that trail must have been hard work!
On the col you will find a security point manned by the local mountain guides. They are there for the duration of your race for your safety, spare them a smile as you pass, it's a high and wild place to wait! There is no food or water at Colle del Turlo, so make sure you stock up in Alagna. You will pass a fountain after 4km at the Rifugio Pastore. After this there is one good spring right on the trail but higher up water is buried beneath rocks and some way from your path. This is the second of your "three" major cols!
On the far side of the pass you descend a long and wild valley out to your next major checkpoint at Macugnaga. First on paved stone slabs, then rocky zigzags which can be slippery when wet, until you finally you reach the base of the valley and an easy undulating trail. Luca and his team will be waiting for you in Macugnaga with soup and pizza.
It's a short, sharp climb up to Monte Moro, some 1530m over 7km. This is the third (and last) of your "three" major cols! Another checkpoint in the Rifugio Oberto Maroli and then golden Madonna delle Nevi will be waiting for you at the top of some stone slabs. A wire handrail and wooden steps help you up, but the slabs are a great angle to walk up freely if you like!
For about 1km the descent is on stone slabs. It will be marked very well with orange ribbons on bamboo sticks. Please take good care here and move slowly, especially if wet or icy. There will be another security point at the bottom of this section with volunteers ready to help in case of any problems. If a fellow runner is hesitant or in trouble as you pass please make sure to give the message to our volunteers here. After this (awesome) part of the descent it is a nice runnable trail to the Mattmark reservoir. This is actually the largest earth dam in Europe! The flat trail along the side of the reservoir can feel hard to run at any speed by this point, but make the most of it!
From the end of the dam there are some steep zigzags, be careful of the road crossings, and then a great run out to the village of Saas Almagell. Don't get excited yet as there is still ~3 km to Saas Fee on a gently inclined easy trail, it is good for pushchairs so it will be good for you too! The checkpoint is right in the Dorfplatz of the village by the church. Take your time here to rest and refuel.
The next section between Saas Fee and Hannigalp is high above the valley, and wild. There are a couple of streams and one river to refill with water if you need but no habitation. The path traverses high above the valley with endless ins and outs. It feels like you are making progress as you run south towards the major east-west Rhone valley, but as soon as you think you are nearly there another in and out will make your heart sink. Enjoy the run, it's beautiful, it's wild, it's just awesome. Likely you'll see (or surprise) a number of steinbock (alpine goat). Just don't follow where they go … please stay on the trail! You won't realise but you will have been passing beneath a series of 4000m summits until finally you will round the corner of this big massif and reach the small alp of Hannigalp. If it is daytime you'll see your first and only view of the iconic Matterhorn, look hard! Take some tea or a small snack here to give you power for the last few kilometres down to the finish line. Keep going, we'll be waiting for you in the church square of Grächen!