The Great Himalaya Trail is a vague concept, really a network of trails through the Himalayas. When you set foot on the trails, it's anything but vague: it's tough, wild, enormous, humbling. Lizzy Hawker, as you may know, has a passion for making long solo journeys across tough terrain. In 2011, a attempt to cross Nepal failed, losing the way in a terrifyingly dense forest on a steep hillside, and losing satellite phone, money, permits too. It took four days to escape from the forest. This 2016 attempt is looking much better, with 5 years more experience gained. In between she's run from Everest Base Camp to Kathmandu, 319km in 60 hours, and recently the Tour of Monte Rosa, a brutal 170km with 11km D+ in 37 hours.
Lizzy is, the time of writing, this far across: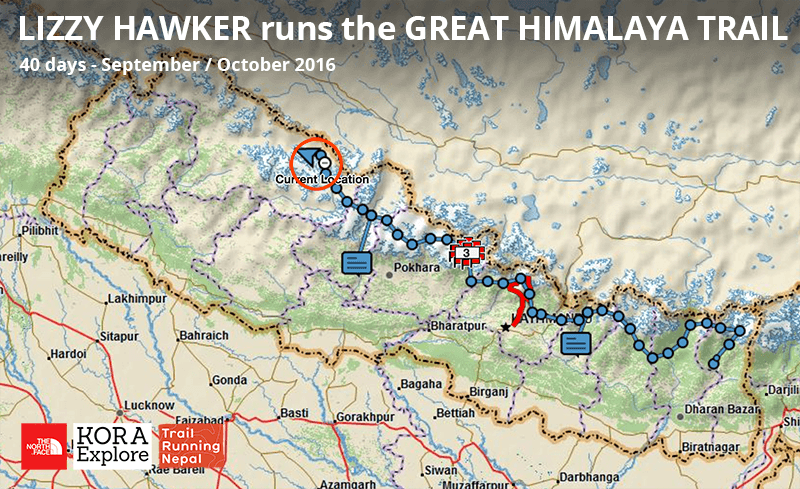 And at the time you read this, she is this far across.
The GHT
The Great Himalaya Trail is some 1600km east to west climbing more than 2km of height per day, maybe 100,000m in total. Moving across Nepal crosses all of the major rivers that cut deep into the Himalayas. Anyone who's walked in Nepal's hills will know the scale of the ups and downs.
At the point she is at now around two-thirds is done, and now it gets tougher than ever. The high altitude passes of Dolpa: traveling in thin air over 5000m high passes 6 or 7 times, then into an area of no habitation for nearly a week, crossing difficult terrain like this on the faintest of trails.

THE FINAL PUSH
And so, as written on her fundraiser page: It's hard to stay fit and healthy on a journey like this. Hundreds of thousands of footsteps from dawn til dusk in wet shoes, climbing more than twice the height of Everest every week, falls (pic), cuts & scratches, the leeches (pic), snowblindness, losing the way, sleeping under the stars (or rain clouds) and (almost) all solo. How do you keep up the mental strength to keep going?

Having a cause to work for helps.
Lizzy wants to raise money to give opportunities to Nepali runners, particularly girls. She's seen the impact Mira Rai's success has had on Nepal, inspiring girls across the country. That started by a chance meeting and a subsequent donation of $360 from a woman to pay for Mira's food and lodging while she learned about trail running.
Not everybody can be Mira Rai. But girls should get a chance to be the best they can be. Opportunities like these can change lives, give new perspectives, and especially in countries like Nepal, can maybe help to change the view of women's place in society and prove women can be champions too – amazing, inspiring ones. This is why we need your help.
And of course it can be fun, challenging and exciting too.
With every donation, we'll send a message to Lizzy's tracking device. This will keep her going forward on this enormous, bleak terrain and finish this 1600 km and 100,000m of climb (1000 miles, 328,000 feet) on the world's biggest mountain range.
Thanks for your support!
How to donate
We've set up a crowd-funding page linked to a newly started NGO in USA, Athletes for Athletes (ASA), set up by Molly Mikita in Breckenridge, Colorado. Molly runs the Vertical Runner store there. After visiting Nepal and following the stories of Nepali athletes she onboard with Trail Running Nepal to fundraise for athletes. This is great!
Before you donate
Please note the following. Generosity.com only charges the credit card provider fee, around 3%. However it offers you the chance to donate 15% of your fee to them too for the service, which you may or may not want to do. Click images below: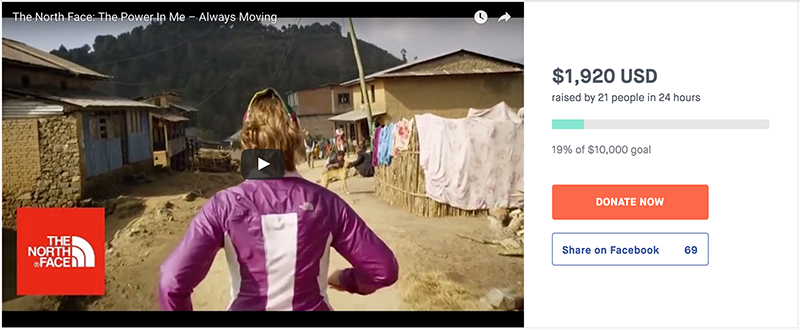 Alternative ways to donate
Paypal is also great, via molly@myawesome.org to the USD account of the US registered charity ASA.
Do you want to donate by bank transfer? Send an email and we'll send you details.