How it looks
Registration cost
Fee: 192 euros
The registration fee includes:
Start number and race chip (official timekeeping)
Transport of 1 x UTMR drop bag to the checkpoint at 52 km
GPS tracking for security
Awesome race t-shirt
Checkpoints offering refreshment (food and drink)
Finisher's gift (for official finishers of the Mischabel 100)
Route profile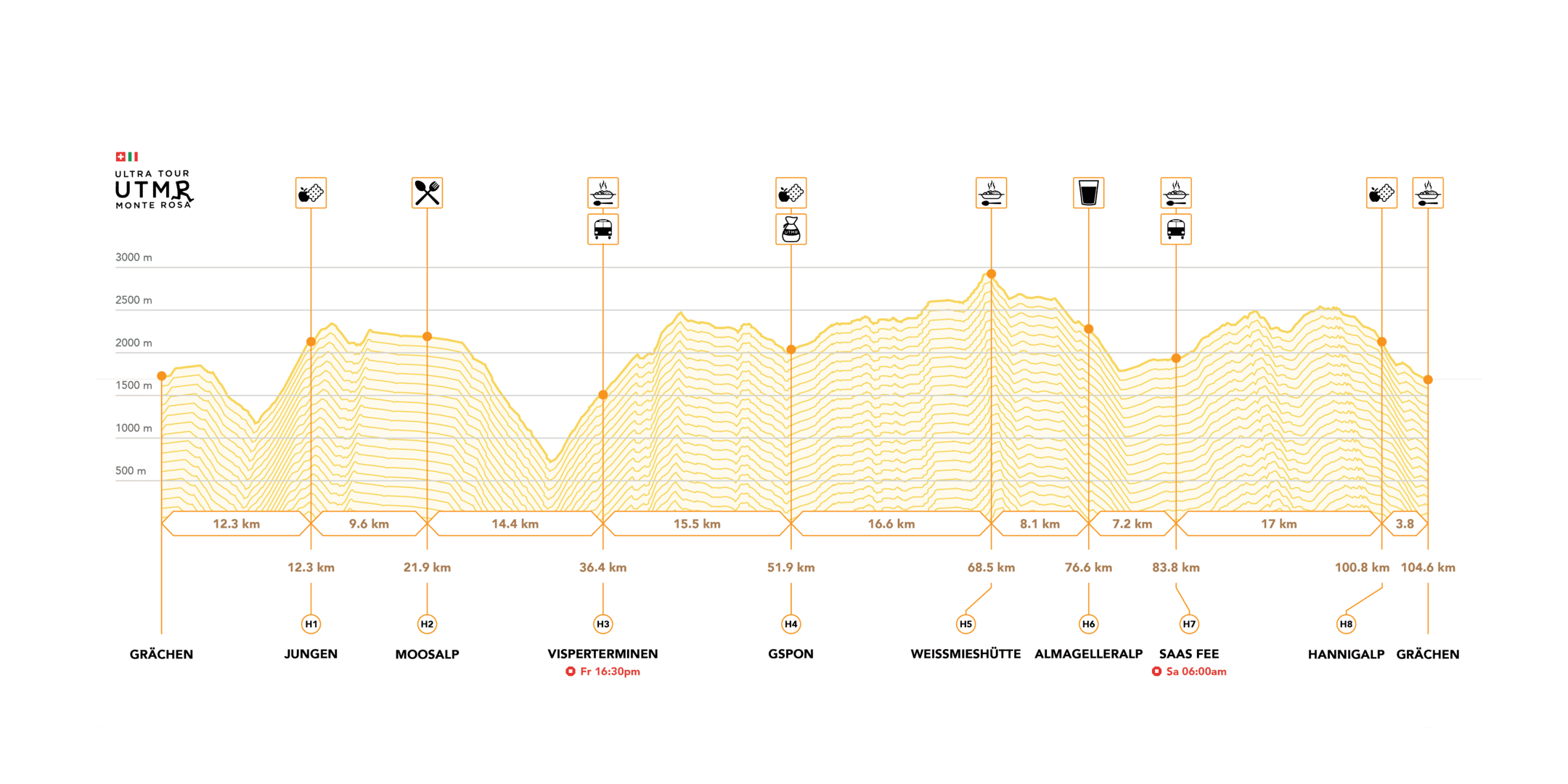 Checkpoints, distances, elevation and cutoff times
Check points
km
Cum. km
Altitude
m
m
Cut off
Refreshments
Dropbag
Rest
DNF
Medical
START
Grächen
0.0
0.0
1619
↑ 0
↓ 0
Jungen
12.3
12.3
1975
↑ 1089
↓ 742
Moosalp
9.6
21.9
2169
↑ 1644
↓ 1240
Visperterminen
14.4
36.3
1340
↑ 2373
↓ 2623

16:30

Fri, 08 Sep
Gspon
15.5
51.8
1941
↑ 3603
↓ 3337
Weissmeishütte
16.6
68.4
2724
↑ 4869
↓ 3795
Almagelleralp
8.1
76.5
2181
↑ 5042
↓ 4481
Saas Fee
7.2
83.7
1796
↑ 5185
↓ 5021

6:00

Sat, 09 Sep
Hannigalp
17.0
100.7
2124
↑ 6701
↓ 6176
FINISH
Grächen
3.8
104.5
1624
↑ 6743
↓ 6743
Water
Snack
Meal
Firstaid
Ambulance
Dropbag
Rest
DNF notes:
PDF maps
PDF 1:100000
GPS tracks
GPS
KML
NB right click and "Save As"
ITRA
ITRA
Results
First edition results from 2021
Route description
You start running with gentle forest trails alongside the wasserleitungen before a sharp descent to St Niklaus. From here you climb to the delightful hamlet of Jungen and the höhenweg takes you high above the valley floor towards the Rhone valley. You pass through two delightful traditional Walliser villages of Törbel and Zeneggen before a sharp descent to cross the Vispa river. A long climb through Visperterminen to the Gibidumpass puts you right onto the magnificent Gsponer Höhenweg. A mixture of ancient pine forests, with rich alpine flora, and rocky sections leads you south towards Kreuzboden and the Weissmieshütte from where a beautifully panoramic trail takes you to Almagelleralp. With a gentle descent to Saas Almagell and a rising trail to Saas Fee you cross to the other side of the Saastal. Now the Balfrin Höhenweg leads you from Saas Fee to Hannigalp, it is never really technical or exposed, but if you are not accustomed to thin alpine trails this will require concentration in places. One last descent through pine forests and we'll be waiting for you in the Dorfplatz in Grächen.
This is alpine terrain, with some long wild sections, and you must be able to look after yourself in all conditions.
Bold, beautiful and brutal. Still wild, still challenging – good luck and have a great race!
Please note: you will be required to carry the obligatory equipment. Thank you for your cooperation.
Race programme
Thursday 7 September
16:00 – 19:00
Registrations
Friday 8 September
08:00
Start of the Mischabel 100
Saturday 9 September
14:00
Close of the Mischabel 100
16:30
Kinderrenen – Kids race!
18:30
Prize-giving and Closing Meal Celebration