KORA Explore will offer several multi-day running camps in 2023 which will provide ideal training for the Ultra Tour Monte Rosa, as well as other multi-day or ultramarathon races. We also offer some exploratory fast packing tours in Nepal! We'd love to share some time with you on Alpine or Himalayan trails. Just email info@korexplore.com for more info.
Swiss / Italian Alps
Nepal
Leader
All camps are led by Lizzy Hawker. On foot whenever possible, as an elite athlete Lizzy held the world record for 24 hours on the road and won the Ultra Trail du Mont Blanc an unprecedented 5 times. She has twice crossed the Great Himalaya Trail, alone through the Nepal Himalaya. Now race director of the Ultra Tour Monte Rosa her passion for exploring is taking her far beyond competition to high, wild places often in Nepal.
Sign up here for news of future running camps and tours!
Tour de Monte Rosa
Our running tour makes a full circuit of Monte Rosa in the Pennine Alps bordering Italy and Switzerland. The spectacular Monte Rosa massif itself includes seven summits over 4000m, including the Dufourspitze, the highest peak in Switzerland. The circuit on wildly beautiful trails follows ancient routes linking the Swiss and Italian valleys, making a challenging and diverse high-level route.
See here for full information and details. For all dates we meet on Wednesday evening in Grächen and depart on Monday morning.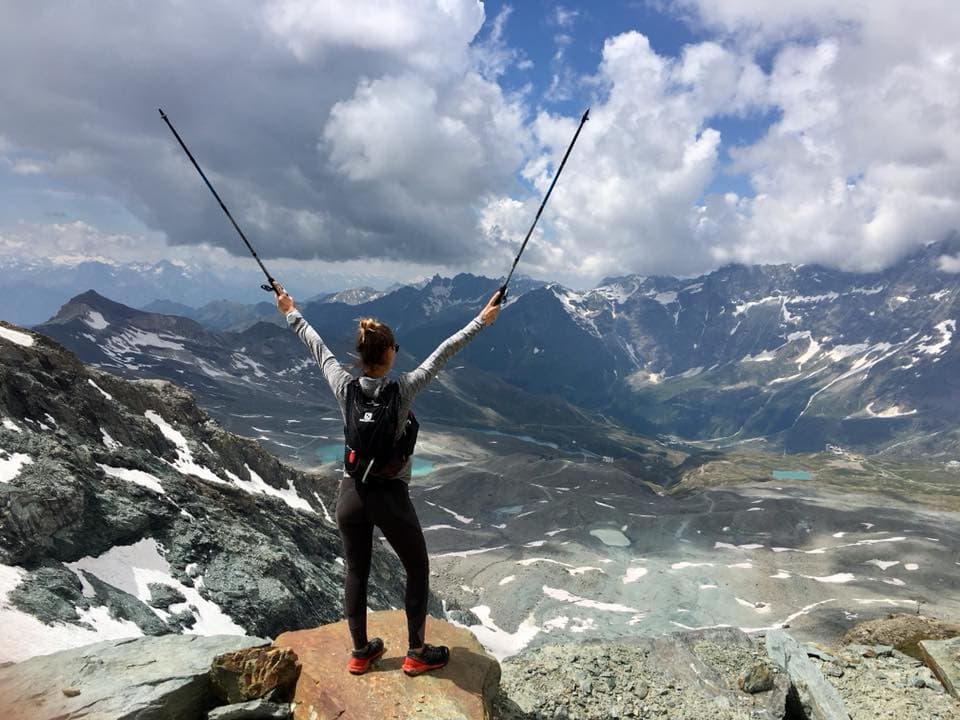 28 June – 3 July 2023 – All levels – OPEN
19 – 24 July 2023 – All levels – OPEN
950 euros (based on a minimum of four participants, maximum of ten)
Retreat: Moving into Stillness
For these retreats we will be based across the valley on Moosalp in a very special location. This will be a "live slow" experience, living simply together in a alphütte where our heating and cooking will be by wood fire. We'll be on a journey together moving into stillness through a combination of meditation and running. Email us for more information. Join us for a unique and special offering!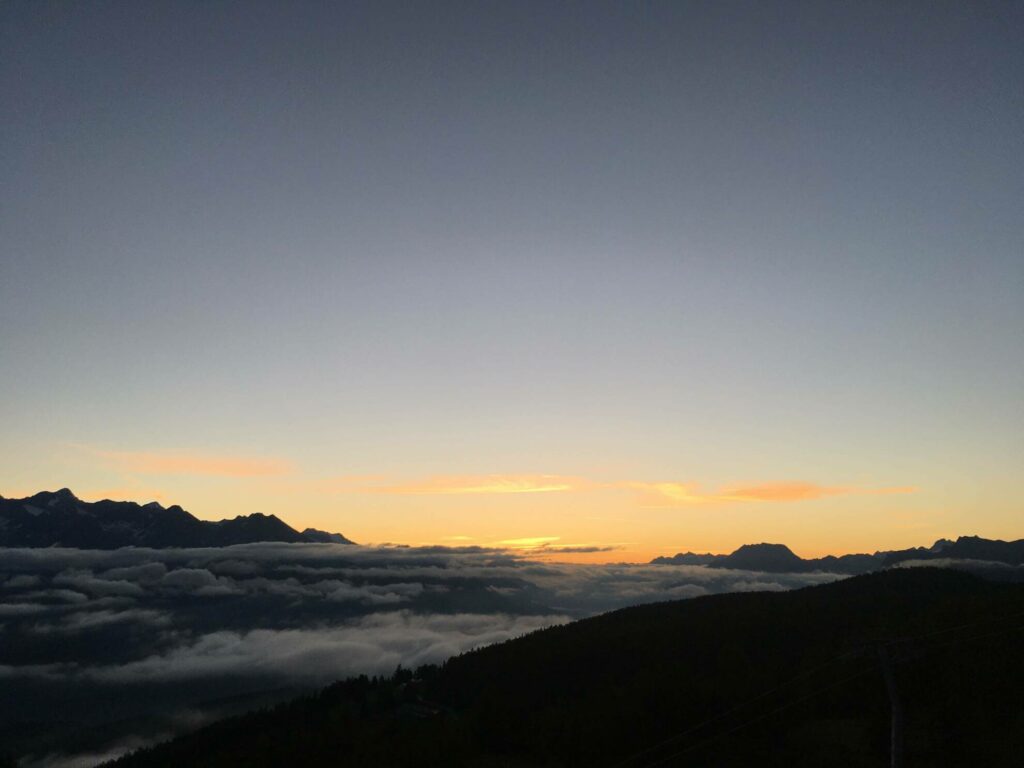 8 – 14 July 2023 – Moving into Stillness – OPEN
16 – 22 September 2023 – Moving into Stillness – OPEN
More information
Mischabel 100
We've been scouting out a magnificent alternative as a bad weather / covid fallback for UTMR exploring the beautiful "höhenweg" (high trails) of the Matter and Saas valleys. We think this route is far too good for just a fallback! And so we'd love to share it with you as a tough 2-day route. If you are training for a longer race then these 2 back-to-back days will be a great preparation. These are some of the best trails we've run in Switzerland. And that's saying something!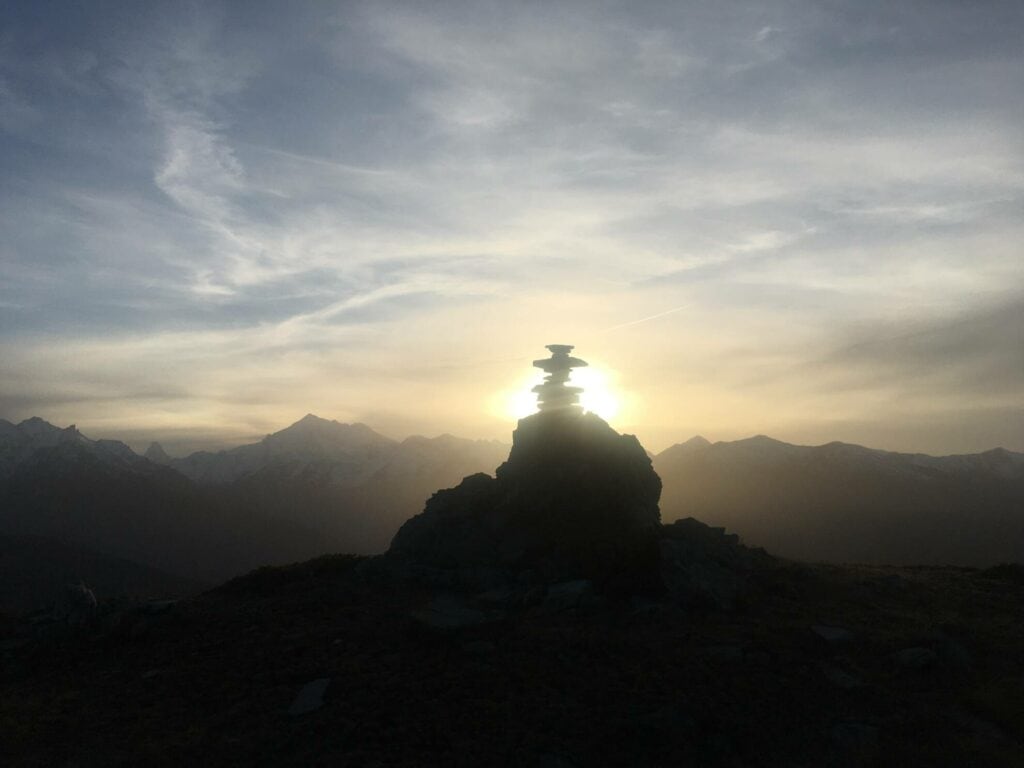 23 – 26 June 2023 – All levels – OPEN
Book here!
Swiss Valais Trails
We explore some of the best running tours of the Matterhorn valley. With a valley base we can be flexible and tailor the routes to the participants and according to the weather or snow level. This is an ideal opportunity to boost your skills for running on more technical mountain terrain, work on endurance and confidence, or simply enjoy some days in the mountains in like-minded company.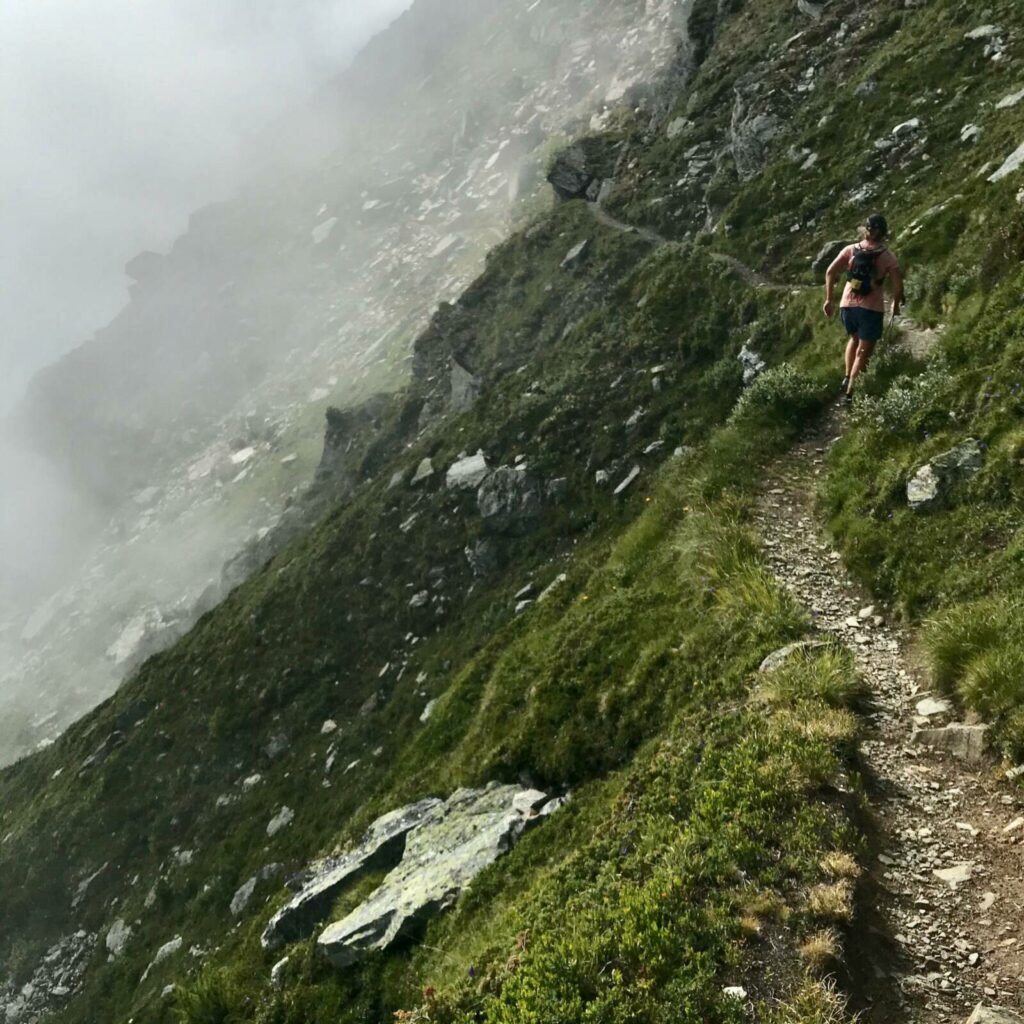 5 – 10 July 2023 – All levels (meet Wednesday evening, depart Monday morning) – OPEN
Runners Haute Route
This is a faster paced tour for previous Kora Explore tour or race participants. We'll alternate between our 'improved' version of the classic Chamonix to Zermatt "walkers" route, and other especially selected 'haute routes' across some of the other high mountain regions in Switzerland. Like this we hope to share some of the "best of the best" of Switzerland's high alpine trails.
28 July – 2 August 2023 – Advanced – BY ENQUIRY OR INVITATION!
Tour du Cervin / Matterhorn
A full circumnavigation of the iconic Matterhorn, through French, German and Italian speaking valleys. A demanding journey of contrasts and beauty, spectacular views of 4000m mountains and diverse cultures. Come and explore with us! We meet in Grächen on Friday evening with departures on Wednesday morning.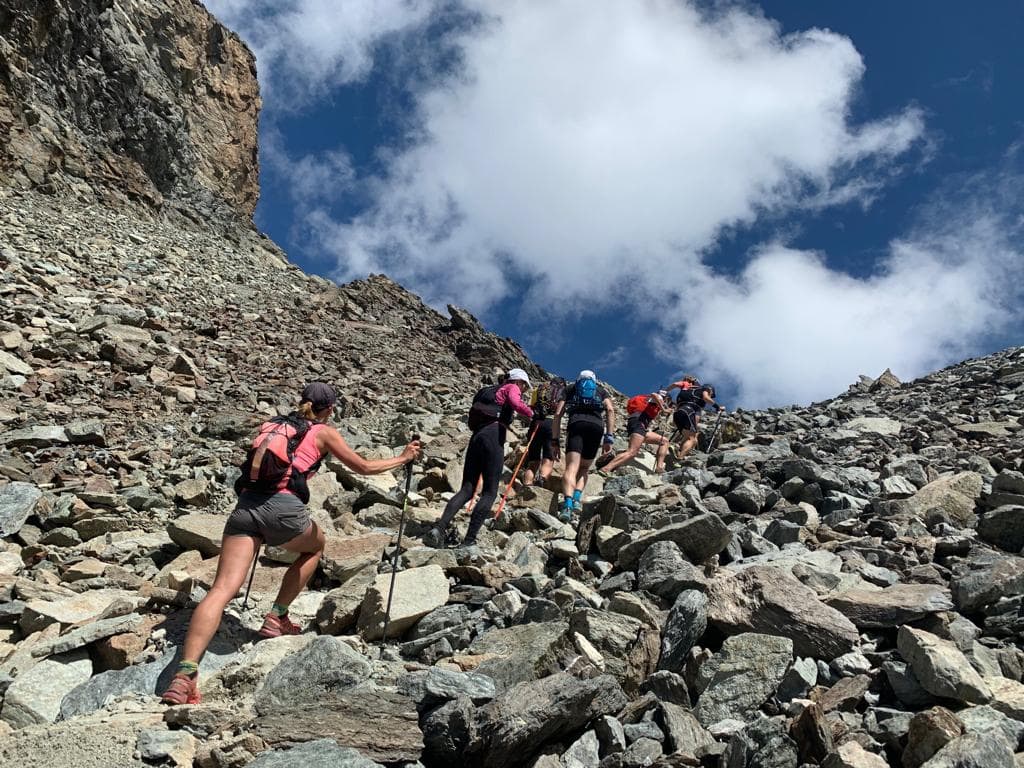 9 – 14 August 2023 – All levels – OPEN
1350 euros (based on a minimum of four participants, maximum of ten)
Pikey Peak & Numbur Himal Explore (fastpack)
A 4065m peak, breathtaking views reaching to Everest, easily accessible from Kathmandu and some superbly runnable trails. This short fastpacking trip is ideal for building endurance and exploring a small piece of the 'real Nepal' away from the tourist honeypot trekking routes.

Cost TBC (based on a minimum of four participants, maximum of ten)
Kathmandu Valley Rim
Kathmandu is especially beautiful in the winter. It is surrounded by a ring of hills which can be linked together to allow circumnavigation of the entire Kathmandu Valley. It makes for a 100 mile journey with a lot of ascent and descent. "It's a great adventure," says Lizzy. She should know – setting an FKT on this route in April 2018, after a previous attempt in March 2016. It's the perfect boost for your winter training or purely a nice experience in itself. We meet in Kathmandu on Sunday evening with departures on Friday morning. The ultimate exploration of the Kathmandu hills!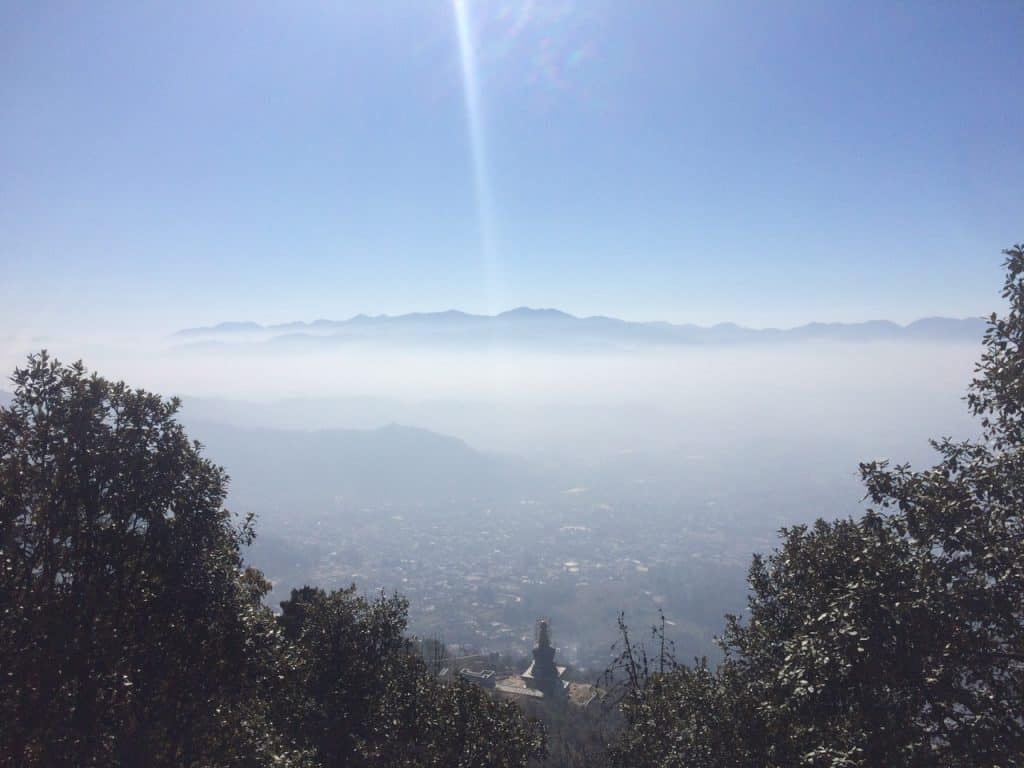 Autumn 2023 – Kathmandu Valley Rim Running Tour – All levels – TO BE CONFIRMED
Bespoke training days
Please let us know if you would like some training but can't make the dates above. It may be possible to arrange additional one/two day trainings. Send an email to: info@koraexplore.com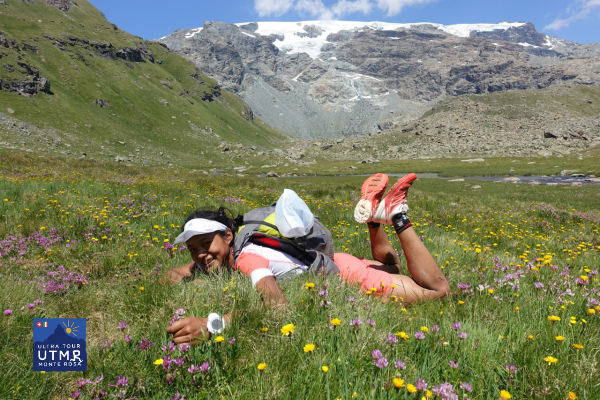 There is not always time to smell the flowers during a race. But that's exactly what we do during training camps! Here Mira Rai is enjoying the optimism of high meadow flowers after an awesome descent from Col des Cimes Blanches (2981m) during the 2015 training camp.