KORA Explore will offer several multi-day running camps in 2020 which will provide ideal training for the Ultra Tour Monte Rosa, as well as other multi-day or ultramarathon races.
Precautions due to the Covid-19 pandemic
We are glad able to go ahead with our small group running camps and tours through the 2020 summer, subject to the coronavirus situation remaining stable.
Cancellation: If any running tour or camp must be cancelled due to the pandemic then all deposits will be refunded in full, otherwise normal cancellation conditions apply.
Requirements: Please note that all participants must be symptom free and have no suspicion of contact with a positive case within the 14 days prior to arrival in Grächen.
Participants must accept that they may be at risk of close contact with others – defined as occasions where protective measures cannot always be observed & distance may fall below 2m.
Contact tracing is mandatory. Information will be held for a minimum of 14 days and may be submitted to the cantonal medical authorities if required.
Wearing masks is currently mandatory in public transport in Switzerland, Italy and France. And also in cafes / other indoor spaces in Italy and France.
Entry to Switzerland: If you are coming from outside Switzerland please take note of the latest restrictions on entry. Entry restrictions are continually updated according to the changing situation.
Recommendation: to protect your health we recommend you do not participate if you are in a high-risk group for COVID-19. The Swiss government defines this as people over the age of 65 and adults with high blood pressure, diabetes, cardiovascular disease, chronic respiratory disease, cancer or who have a disorder or are undergoing treatment which weakens the immune system.
Swiss / Italian Alps
Nepal
All camps are led by Lizzy Hawker. If you would like news about future training camps please sign up here.
Kathmandu Valley Rim
Kathmandu is especially beautiful in the winter. It is surrounded by a ring of hills which can be linked together to allow circumnavigation of the entire Kathmandu Valley. It makes for a 100 mile journey with a lot of ascent and descent. "It's a great adventure," says Lizzy. She should know – setting an FKT on this route in April 2018, after a previous attempt in March 2016. It's the perfect boost for your winter training or purely a nice experience in itself.
More information here! We meet in Kathmandu on Sunday evening with departures on Friday morning. Pair it with the iconic Stupa to Stupa 50km trail run challenge for the ultimate exploration of the Kathmandu hills.
TBC March 2020 – Stupa to Stupa 50km Trail Marathon
23 – 26 March 2020 Kathmandu Valley Rim Running Tour – All levels  –
Pikey Peak & Numbur Himal Explore (fastpack)
A 4065m peak, breathtaking views reaching to Everest, easily accessible from Kathmandu and some superbly runnable trails. This short fastpacking trip is ideal for building endurance and exploring a small piece of the 'real Nepal' away from the tourist honeypot trekking routes.
Cost TBC (based on a minimum of four participants, maximum of ten)
Tour de Monte Rosa
Our running tour makes a full circuit of Monte Rosa in the Pennine Alps bordering Italy and Switzerland. The spectacular Monte Rosa massif itself includes seven summits over 4000m, including the Dufourspitze, the highest peak in Switzerland. The circuit on wildly beautiful trails follows ancient routes linking the Swiss and Italian valleys, making a challenging and diverse high-level route.
See here for full information and details. For all dates we meet on Wednesday evening in Grächen and depart on Monday morning.
24 – 29 June 2020 – All levels –
15 – 20 July 2020 – All levels –
21 – 26 August 2020 – All levels –
930 euros (based on a minimum of four participants, maximum of ten)
Swiss Valais Trails
Based in the village of Grächen we explore some of the best running tours of the Matterhorn valley. Tailored to the participants this is an ideal opportunity to boost your technical skills and endurance!
10 – 15 June 2020 – All levels –
8 – 13 July 2020 – All levels –
9 – 14 September 2020 – All levels –
Runners Haute Route
This is a faster paced tour for previous Kora Explore tour or race participants. We adjust the classic Chamonix to Zermatt "walkers" route to take in some of the best of the high trails of the Valais.
29 July – 3 August 2020 – Advanced –
Tour du Cervin / Matterhorn
A full circumnavigation of the iconic Matterhorn, through French, German and Italian speaking valleys. A demanding journey of contrasts and beauty, spectacular views of 4000m mountains and diverse cultures. Come and explore with us!
See here for full information and details. We meet in Grächen on Tuesday evening with departures on Monday morning.
12 – 18 September 2020 – All levels –
1270 euros   (based on a minimum of four participants, maximum of ten)
Bespoke training days
Please let us know if you would like some training but can't make the dates above. It may be possible to arrange additional one/two day trainings. Send an email to: info@ultratourmonterosa.com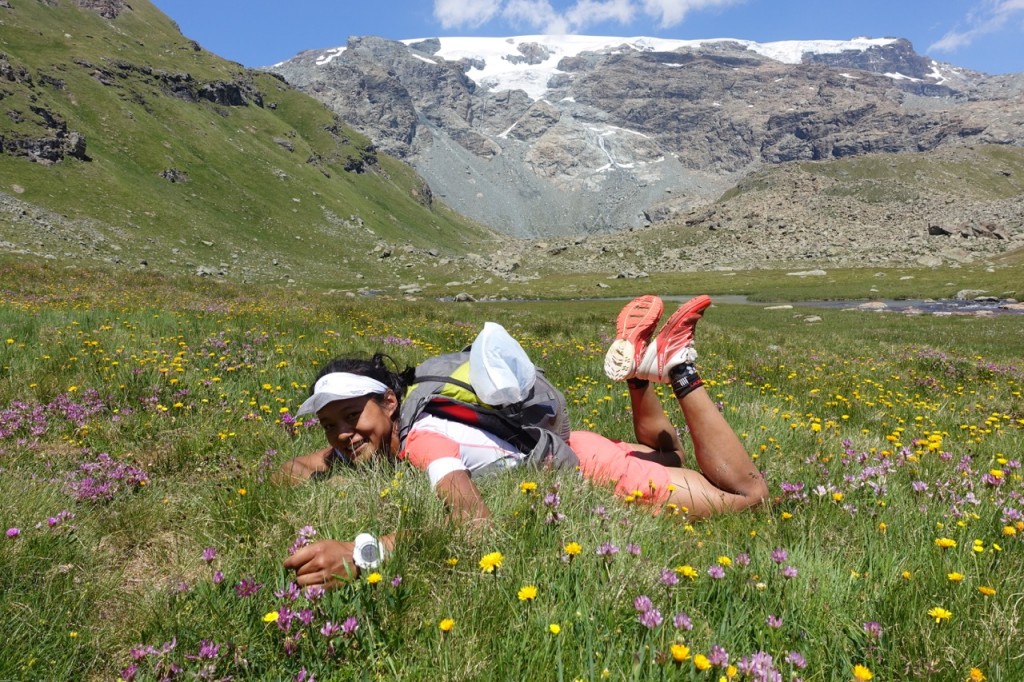 There is not always time to smell the flowers during a race. There is on training camps! Here Mira Rai is enjoying the meadow flowers after an awesome descent from Col des Cimes Blanches (2981m) during the 2015 training camp.