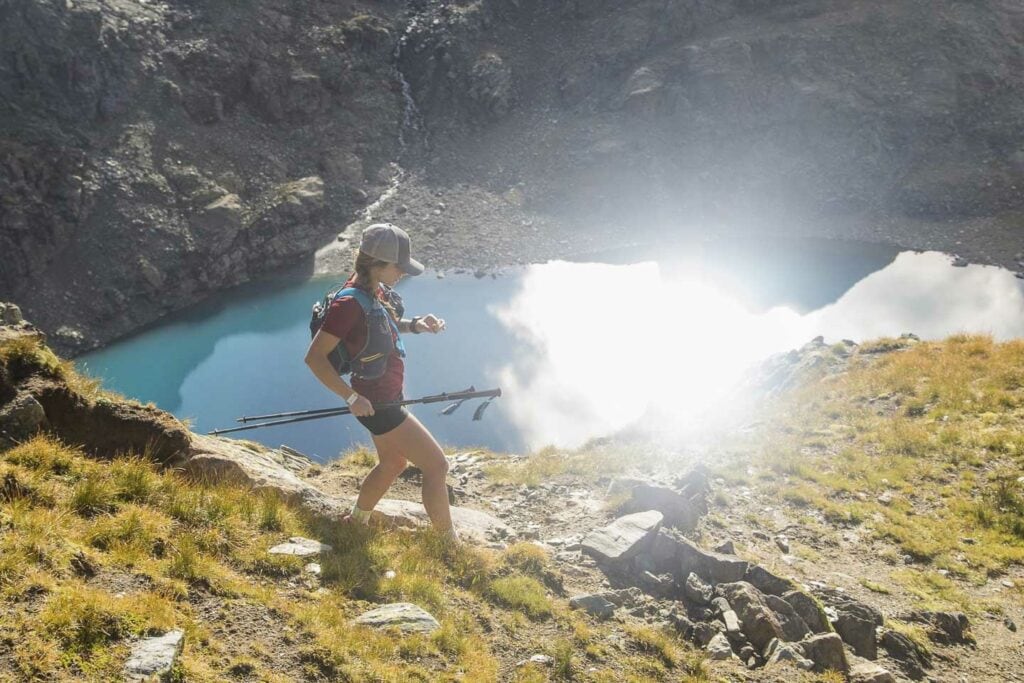 We offer a four-day running tour over the full 170 km route of the UTMR following the high, wild trails of the Tour Monte Rosa. See here for further information about this long established long distance footpath.
This is ideal training and preparation for the UTMR, both stage race and ultramarathon, as well as other multi-day or ultramarathon races. This is where Lizzy fell in love with the mountains, come and join her! Please do email us if you have any questions or want further information and advice.
Course director: Lizzy Hawker (instruction in English)
Book here!
Dates
28 June – 3 July 2023 – All levels (meet on Wednesday evening, depart Monday morning)
19 – 24 July 2023 – All levels (meet on Wednesday evening, depart Monday morning)
Cost
950 euros (based on a minimum of four participants, maximum of eight).
4 day running tour led by Lizzy Hawker, with training tips and discussions
5 nights bed and breakfast accommodation in shared/twin room (plus dinner in Gressoney)
baggage transfer from start to finish of each running stage
ITINERARY
There are options to use public transport and uplift on some days. So if you are recovering from a previous race, training for an upcoming race or recovering from injury there may be options to make the days more comfortable for you!
Day 1
Arrivals
We meet at your hotel in Grächen at 18:30 to discuss the plan for the days ahead and to check kit. I introduce you to the village and we eat together at a local restaurant in preparation for an early start the next day.
Day 2
Stage I: Running tour from Grächen to Zermatt ca. 40.6km, +2840m, -2830m
Overnight in Zermatt with a meal in a local restaurant
Day 3
Stage II: Running tour from Zermatt to Gressoney (IT) ca. 41.2km, +2730m, -2720m
Overnight in Gressoney with a meal in the hotel
Day 4
Stage III: Running tour from Gressoney to Macugnaga (IT) ca. 46.5km, +3190m, -3510m
Overnight in Macugnaga with a meal (good pizza!) in a local restaurant
Day 5
Stage IV: Running tour from Macugnaga to Grächen ca. 44.1km, +2900m, -2580m
Overnight in Grächen with evening meal in a local restaurant
Day 6
Breakfast, individual advice and departures
Equipment
A recommended kit list will be sent to you on receipt of your booking. Bags will be transported from start to finish of each day's stage – so we only need to run with a rucksack with what is needed for the day. Please note that you will need to carry sufficient clothing for alpine trails and mountain weather conditions!
Insurance
Insurance in case of accident, emergency or illness etc. is the responsibility of the participant. You must have personal accident insurance sufficient to cover the cost of search and evacuation in Italy and Switzerland, valid for the duration of the running camp. Please bring your insurance document with you. We also recommend that you take out a normal travel insurance to cover cancellation.
Arrival
Grächen is easily reached by public transport from Geneva, Zurich and Milan airports. Please see sbb.ch/en for information, timetables and price. There are easy train connections to St Niklaus and then a connecting post bus to Grächen.
Register now!