How it looks
Registration cost
Fee: 125 euros
The registration fee includes:
Start number and race chip (official timekeeping)
GPS tracking for security
Awesome race t-shirt
Checkpoints offering refreshment (food and drink)
Finisher's gift (for official finishers of the Mischabel 60)
Route profile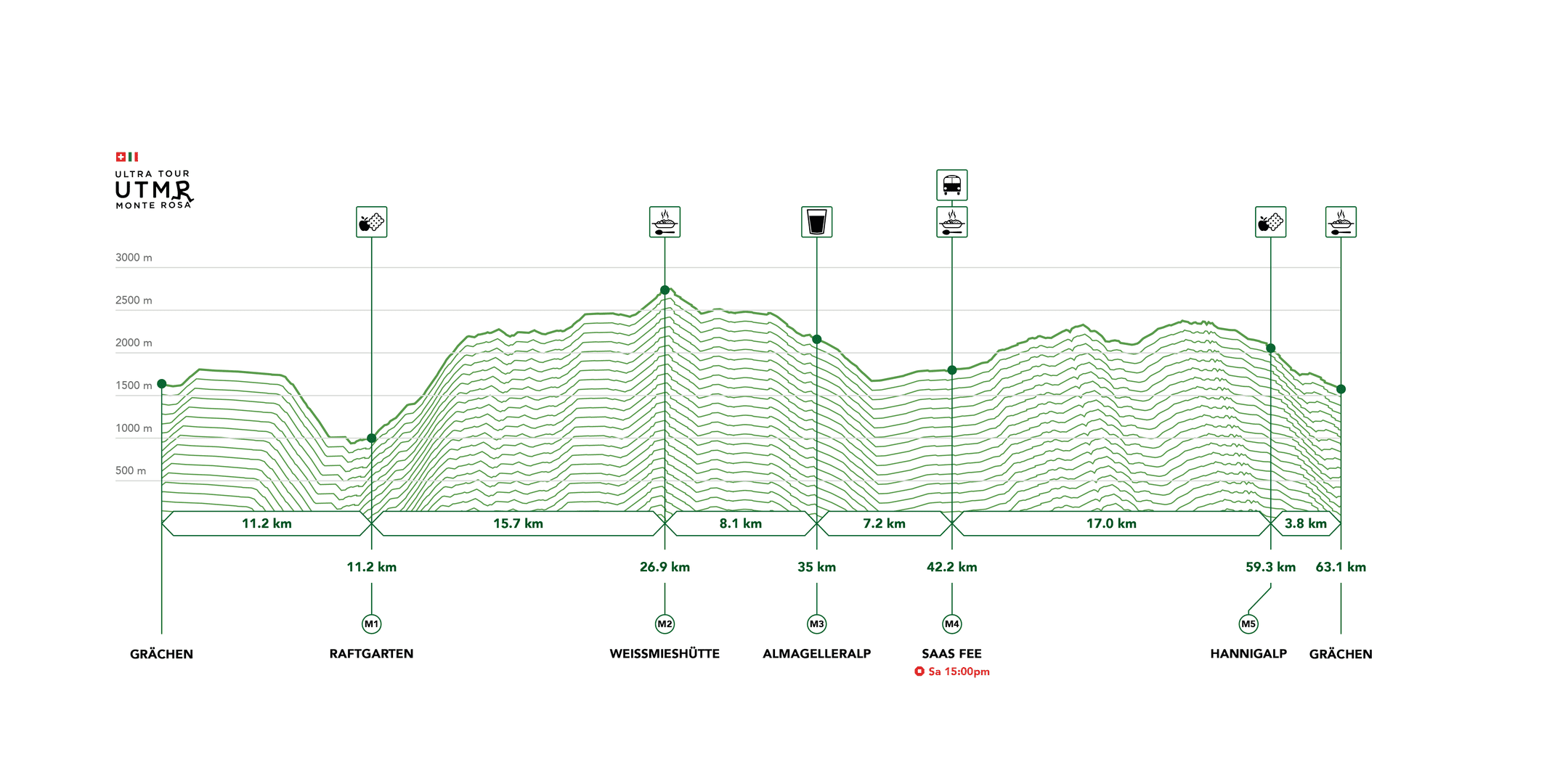 Checkpoints, distances, elevation and cutoff times
Check points
km
Cum. km
Altitude
m
m
Cut off
Refreshments
Dropbag
Rest
DNF
Medical
START
Grächen
0.0
0.0
↑ 0
↓ 0
–
Raftgarten
11.3
11.3
975
↑ 434
↓ 1050
Weissmeishütte
15.7
27.0
2724
↑ 2579
↓ 1476
Almagelleralp
8.1
35.1
2181
↑ 2751
↓ 2159
Saas Fee
7.2
42.3
1796
↑ 2895
↓ 2701

15:00

Sat, 09 Sep
Hannigalp
17.0
59.3
2123
↑ 4410
↓ 3883
FINISH
Grächen
3.8
63.1
1621
↑ 4445
↓ 4445

20:00

Sat, 09 Sep
Water
Snack
Meal
Firstaid
Ambulance
Dropbag
Rest
DNF notes:
PDF maps
PDF 1:50000
GPS tracks
GPX
KML
NB right click and "Save As"
ITRA
ITRA
Results
First edition results from 2021
Route Description
Your route will take you on two magnificent high level trails – the Gsponer Höhenweg and the Balfrin Höhenweg. While neither have major ascents or descents the cumulative changes over ~17 km or ~20 km are significant. The Balfrin Höhenweg from Saas Fee to Hannigalp is the more technical and exposed section. It is never either, but if you are not accustomed to thin alpine trails this will require concentration. Your race will start with a sharp descent into the Saastal, followed by a 1200m climb up onto the Gsponer Höhenweg. You reach a maximum altitude of just over 2500m. This is alpine terrain, with some long wild sections, and you must be able to look after yourself in all conditions.
Please note: you will be required to carry the obligatory equipment as per the UTMR Stage Race. Thank you for your cooperation.
This is not a beginner's Ultra. If you are prepared and experienced you will have the reward of completing a beautiful and challenging route. But please make sure you are prepared and experienced! Good luck and have a great race!