For the last few years we have partnered with Kikourou, an endurance sports community in France, to offer a competition for a free place for UTMR. This year Xavier Jacquel was the lucky winner and will be competing in the UTMR 100 km 3 Passes ultra. We asked him some questions to see how he feels about the race in September!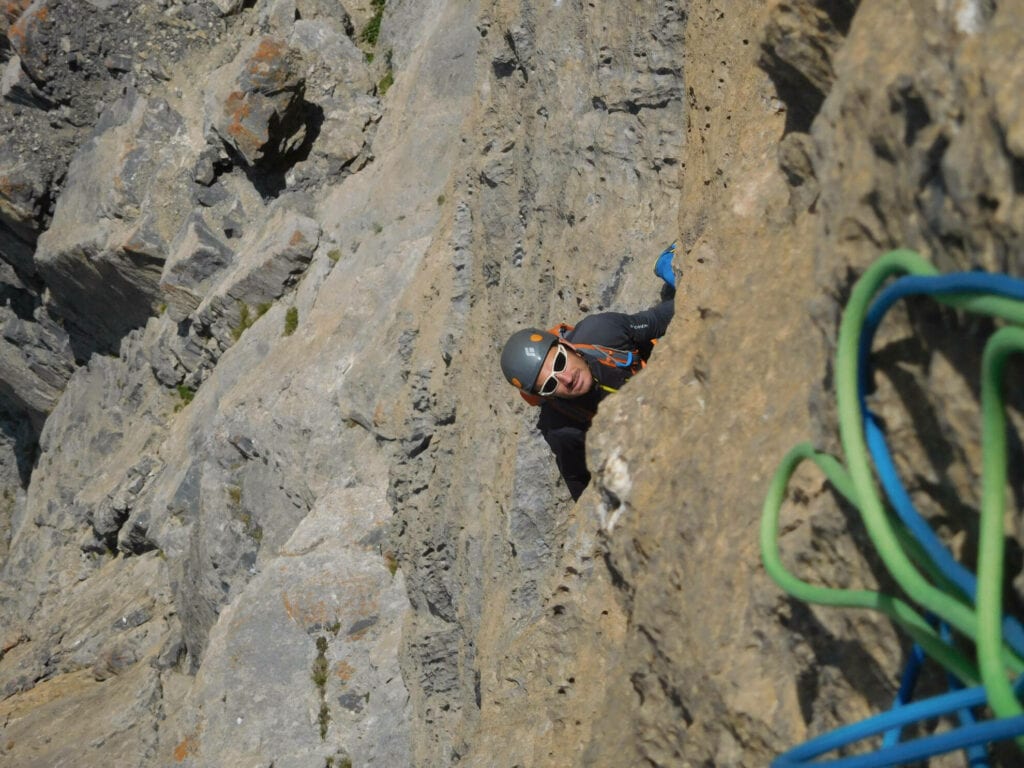 Q. Can you remember how you first heard of UTMR, or what attracted you to the UTMR challenge? I usually take part in local races, next to Lyon in France or in the Chamonix Valley where I come from. The first time I heard about UTMR was on the Kikourou website when they organised a draw to win a bib for the race. I had a look at the pictures and I thought: "Wow, that's definitely a race I want to run!". Next thing I know, I win the bib, so here I am!
Q. What aspect of the race (or parts of the course) are you looking forward to? I went to Monte Rosa a few years ago for ski-touring, and I absolutely loved the place. With UTMR, I'm really looking forward seeing what the scenery looks like in summertime. I also know how welcoming Italian and Swiss people can be, and apparently the ambiance around the race is incredible; that's something I'm very sensitive to. I don't come here just to run a race, I want to enjoy every parts of the event.
Q. Will you be training this year with UTMR specifically in mind or just keeping in form through racing? The major milestone of my season will be the UT4M around Grenoble in the beginning of July. After that, I'll just try to recover as much as I can and maintain minimal training to stay fit until UTMR.
Q. Does pizza work for you at checkpoints? What do you rely on to keep you going? Pizza definitely works! I can eat literally anything during a race. Being in Italy and Switzerland, I expect amazing iconic food: excellent Italian pasta with fabulous Swiss cheese, and of course chocolate as dessert… Not to mention a good fresh local beer after I reach the finish line!
Q. Do you have any secret tips to share with other runners that you've learned over the years, which increase your chance of finishing? I tend to practice a lot of different sports besides running: hiking, mountaineering, rock-climbing, cycling, skiing… To me, switching between complementary activities is the key to get trained without the risk of injuries inherent to long distance running.
Q. Do you talk to yourself a lot when the going gets tough? What do you find helps keep you going when it's feeling very tough? When it's getting complicated, I focus on the positive sides of the situation. I always keep in mind that I'm incredibly lucky to be there, just for fun, whereas many people around the world endure awful things and would give everything to be right where I stand. I also think of very personal stuff, remember some people in my family, and I realize that giving up is certainly not an option…
One last thing! One more time, I want to warmly thank the Kikourou website as well as Lizzy and the whole UTMR team for this incredible opportunity they offer me. I can't wait to be there!
Thank you Xavier, we are happy to welcome you in September!
And now in French!
Q. Vous souvenez-vous comment vous avez entendu parler de l'UTMR pour la première fois, ou qu'est-ce qui vous a attiré vers le défi de l'UTMR ? Je participe généralement à des courses locales, à proximité de Lyon ou dans la vallée de Chamonix d'où je suis originaire. La première fois que j'ai entendu parler de l'UTMR, c'était sur le site Kikourou lorsqu'ils ont organisé un tirage au sort pour gagner un dossard pour la course. J'ai jeté un œil aux photos et j'ai pensé : « Wow, ça c'est une course que je veux faire ! ». Et j'ai gagné le tirage au sort, donc me voilà !
Q. Quel aspect de la course (ou de certaines parties du parcours) attendez-vous avec impatience ? Je suis venu au Mont Rose il y a quelques années pour faire du ski de randonnée et j'ai adoré cet endroit. Avec l'UTMR, j'ai vraiment hâte de voir la beauté des paysages en été. Je sais que les Italiens et les Suisse ont le sens de l'accueil, et apparemment l'ambiance autours de la course est incroyable ; c'est quelque chose qui me tient très à cœur. Je ne viens pas juste pour courir mais pour profiter de chaque composante de l'événement.
Q. Vous entraînerez-vous cette année en ayant l'UTMR en tête ou garderez-vous simplement la forme grâce à la course ? L'objectif principal de ma saison sera l'UT4M autours de Grenoble début juillet. Il faudra ensuite que je soigne la récupération et m'entrainer un minimum pour arriver en forme à l'UTMR.
Q. La pizza vous convient-elle aux points de contrôle ? Sur quoi comptez-vous pour continuer à avancer ? La pizza c'est parfait ! Je mange tout et n'importe quoi pendant une course. En étant en Italie et en Suisse, j'espère pouvoir profiter de leur gastronomie: d'excellentes pâtes italiennes avec un fabuleux fromage suisse, et du chocolat pour le dessert… Sans oublier une bonne bière locale bien fraiche après avoir franchi la ligne d'arrivée !
Q. Avez-vous des conseils secrets à partager avec d'autres coureurs que vous avez appris au fil des ans et qui augmentent vos chances de terminer ? J'essaie de pratiquer beaucoup d'activités différentes en plus de la course à pied : randonnée, alpinisme, escalade, cyclisme, ski… Pour moi, varier les activités complémentaires est la clé pour progresser en réduisant les risques de blessures liés aux longues distances.
Q. Vous parlez-vous beaucoup quand les choses se compliquent ? Qu'est-ce qui vous aide à tenir le coup quand vous vous sentez très mal ? Quand les choses se compliquent, je me focalise sur les côtés positifs. Je garde toujours en tête que je suis extrêmement chanceux d'être ici, juste pour le plaisir, alors que beaucoup de gens dans le monde traversent des situations vraiment difficiles, et qu'ils donneraient tout pour être à ma place à ce moment-là. Je pense aussi à des choses très personnelles, à des gens de ma famille, et je me dis que l'abandon est juste inconcevable.
Une dernière chose, une fois encore, je veux remercier chaleureusement le site Kikourou ainsi que Lizzy et toute l'équipe de l'UTMR pour cette incroyable opportunité qu'ils m'offrent. Vivement début septembre !