In 2020 we invited Julien Gilleron, a journalist "Trans-Versale" who writes for Wider Magazine and Alpinemag amongst others, as a media participant in UTMR. Of course with cancellation of the longer events we extended his invitation to our Grächen Berglauf, which ended up as a happy, sunny day of mountain running even while adhering to the restrictions due to the Coronavirus pandemic. Julien came to, wrote about, and won the race in great style! So now we're not sure whether to introduce him as an elite runner, or just as the talented journalist that he is! Either way we are excited to welcome him back for the 170 km Ultra Tour in September. Good luck Julien and we thank you for your support!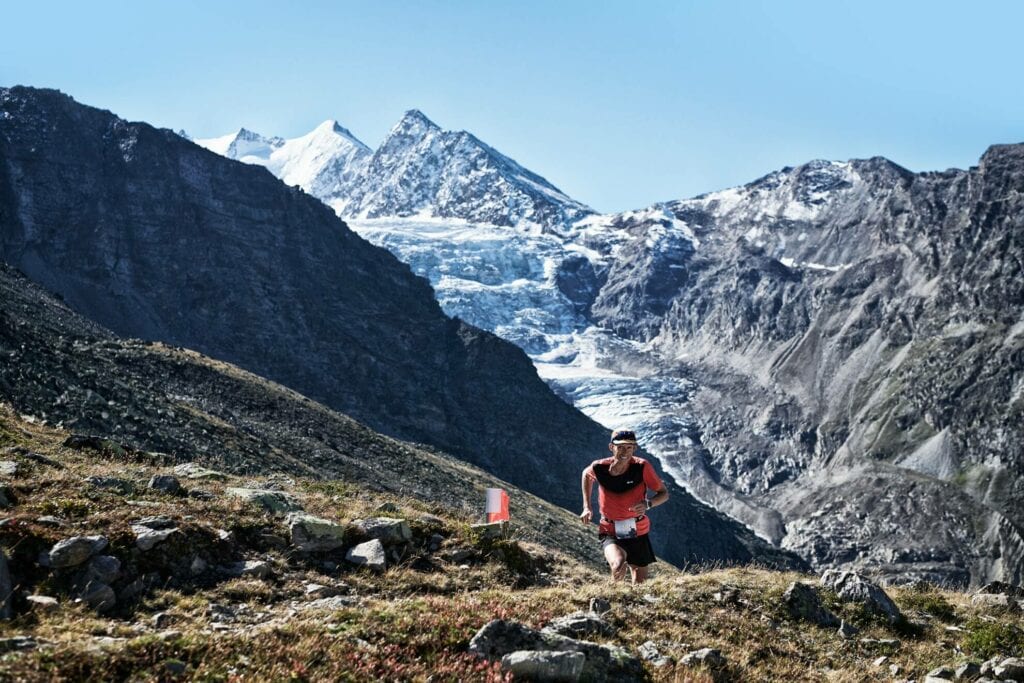 Q. Do you remember how you first heard about UTMR or what attracted you to the UTMR challenge? It's strange: I almost have trouble remembering – the UTMR seems to have been anchored in my memory for such a long time. But I believe that it was by Sebastien Chaigneau speaking of the UTMR. I remember very well that he called it, "one of the wildest, toughest, authentic and most committed races in the world".
It immediately intrigued me, because his comment exactly matched my vision of what ultra is all about. I was interested in the Ronda del Cims, for example. This kind of committed race interested me, hard, but so intense! I then discovered the UTMR: there, I saw the organizer, Lizzy Hawker! Everything went very quickly then, it was obvious. At the same time, I was reading Lizzy's book … perfect timing, harmony.
Q. What aspect of the race (or parts of the course) are you looking forward to? A little excessive, a little näive, a little passionate … but sincere answer: the totality. Let me explain. When I prepare myself for a long (and certainly difficult) race, I try to remain both fairly "virgin" and without too much information on the course, while visualizing and studying sector by sector (not easy to do both!).
I try to remain in a greedy, global pleasure, as long as possible. As if I was lying to myself a little! That's why honestly, as the UTMR is such a grandiose, hyper mountainous course, where there are ONLY impressive segments … I have trouble selecting parts of it. I am looking forward to the totality. if you really had to choose? I saw some pictures of the fueling points, and I was impressed by their beauty, the care and the help of the volunteers. The smiles of the runners, who return to run. Concerning the course, going from one side of the Matterhorn to the other must be a powerful experience. I love the Grächen-Zermatt trail, but I don't know much about the rest. I'm impatient to discover the Italian side, in particular Passo Turlo to Passo Monte Moro, which are legendary for me. But I don't know it at all… yet!
Q. Are you going to train this year with the UTMR precisely in mind or just stay in shape through running? Clearly, the UTMR 100 mile ultra is the ultimate, main, central objective of 2021. Each month until the race, and even since October 2020 – for example, the choice of my rest periods in November 2020, was always decided with the image of the UTMR in mind. This race lives in me, but in a very positive, joyful way, I would say.
Q. Does pizza work for you at checkpoints? What are you counting on to continue? It's confession time … I'm crazy about pizza, but sadly, I don't allow myself to eat pizza (a "pleasure-food" by definition) too much. On a 100M at fueling-stations? Pleasure is nice of course … but watch out for undesirable effects, hypoglycemia, acidity … an explosive cocktail. Sad and difficult, but I do not recommend it for myself. Or if my stomach really doesn't accept anything else! But at the finish line, then yes in triplicate!
How to succeed in continuing? There will be hard times, that's for sure. Quite a few secrets in my opinion: to be well prepared physically (volume, volume), and especially mentally. In my opinion, 60% at least relies on the mind- being able to approach full consciousness, to immerse yourself 200% in each minute of the race. And therefore … enjoy it. To welcome pain, small problems and the weather in a different way. Finally, concerning the food: mhhhhh ….. I have an incredible luck, which is to never have digestive problems. Nevertheless, I discovered … tuna in oil, canned lentils! I remember 30 hours of racing eating the best watermelon of my life.
As a bonus: I dream of it, but will it be possible? For once, I would really like someone to help crew me, a loved one, to share that with her or him. It would be a real dream, and to not want the usual solitude.
Q. Do you have any secret tips to share with other runners that you've learned over the years that increase your chances of finishing? Ah ah, no secrets. I have relatively little experience – let's stay humble – and put things into perspective! But what if I really had to say a few things that can change everything? First, be mentally prepared, so not to suffer, no, rather to be "200% in. in", and work as long as possible, before the race. Secondly, not to have a food experiment on the day. Stay on safe values, and keep as large a range of "pleasure" foods as possible. And have Plan B, Plan G, Plan W. Thirdly, visualize the big day as a day of celebration. And lastly, share with someone? A runner met the same day, or friend or a relative…
Q. Do you talk to yourself a lot when the going gets tough? What helps you keep going when you are feeling very hard? In the long distance, I try as much as possible to remain silent with myself. I try not to "disturb myself", I can be very annoying, talkative, annoying with myself! When the difficulty increases, I mostly start to breathe differently, work on the breath, the visualization … start to put myself in anesthesia a bit, or switch my mind. I also use repetitive sentences a lot, probably "basic" self-hypnosis … And then when it's too hard … visualise by kilometer sections, it remains essential I think, the course of 70, 100, 130K …
Thank you Julien, see you in September!