"What is a good alternative to UTMB – Ultra Trail Mont Blanc?"
The internet is a great place to prefix a great product's name with "Alternative to" to find a way to either find something cheaper, simpler, as yet 'undiscovered' and quieter etc. Especially the case when the product in question is sold out!
With ultra trail races, no different. UTMB, the classic European 100 mile bucket list foot race, is always sold out and with a lottery for places, plenty of capable runners are looking for an alternative race each year. As Roman Evarts advises below, don't cancel your 100 mile plans, switch to a similar race and "just keep on working towards a big 170 km event."
Here's some 2018 feedback from Andre Lauhoff
"In January I was disappointed after not to be drawn in the UTMB lottery, but now I know it was the right and even better decision to participate the UTMR. I found joy with fantastic people in non commercial environment where all is about passion for ultra mountain running. This 4 days in Grächen with my first 100miler were very special for me and I will thank Lizzy, Richard and all runners, all volunteers, all spectators for this. Please keep the race at it is
❤." link
To help those looking for an alternative to the UTMB, here are some opinions from runners who know both UTMB and UTMR courses, which might help. Don't agree? Give your opinion below in the comments box!
Jason Poole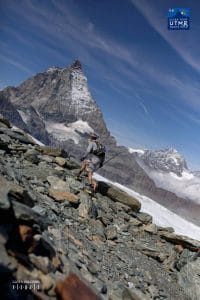 I've been fortunate to finish some really amazing races in many parts of the world. This includes finishing the Hardrock Hundred five times, Tor des Géants, Ronda dels Cims, UTMB, Zugspitz and many more. I can honestly say that the UTMR is one of my absolute favorite mountain running races of all time. It offers up such a diverse mixture of terrain and topography, not to mention postcard-worthy views of some of the most famous and recognizable mountains in all of Europe. The race is very well organized and offers just enough support, yet not so much that you can't let your guard down while out on the course. Coming from Colorado in the USA, I was very impressed with everything the UTMR offered. I highly recommend this race as a great alternative to larger, more extravagant races. You won't be disappointed!
Jason Poole UTMB® 2011 32:27:54, General ranking : 81, Category ranking V1 H : 26 / UTMR 2017 39:22:17 15th / V 5th
Brian Melia
UTMR 2017, 2nd Veteran Male 39:00:33, 13th overall
You could say that UTMR is an alternative to UTMB, however it is so much harder mentally and physically. The climbs, the technical parts…. it is so different. However, it is 170 km and not too far away so if you fail a UTMB entry it is certainly alternative.
You do get a rude awakening though, not far from the start… ⛰
[i.e. there is a big climb beginning 2 km after the start, which leads right into technical mountain trail…]
Brian Melia UTMB® 2013 29:24:05, V1 H : 28 / UTMR 2017 39:00:33 13th / V 2nd
Denise Zimmerman
UTMR 2017, 2nd woman 38:47:55
UTMB is a very famous and nice, popular race. It is well organised and marked, and the course is very nice. UTMR is a smaller race and it is very familiar [friendly]. The organisation is good. The aid stations are a little bit small for the big distance. The course is great and for me it was nicer then the UTMB course, but much more technical and so much harder then UTMB. I took much longer then UTMB [to finish]. (UTMR 38:47 vs UTMB 31:00)

For me both races were great!
Denise Zimmerman, 2nd Woman UTMR 2017, UTMB…31:00:03 in 2016 and finished also in 2015, 2012, 2011, 2009
Gill Fowler
UTMR 2017, 4th woman 41:33:23, La Sportiva Australia
I think UTMR is a fantastic course! It has more appeal to me than UTMB, because for me the mountains are more spectacular, the terrain more challenging and the trails more technical.

It is a great alternative, but it depends on the person. I think they need to be a confident and strong runner/walker. UTMB can cater for a wider range of participants.

I also really like the size of the event, and am happy being in the mountains by myself, and don't need to have spectators snd fanfare, but if a runner wants this, maybe this is not a good alternative.

It is the extra challenge of UTMR that makes it more attractive. I loved UTMR and I hope to be back.
Gill Fowler 2013 UTMB finisher, 28:50:30, 6th female.
Roman Evarts
In my opinion Ultra Tour Monte Rosa is the best possible alternative to the UTMB for somebody if the person had a working long term plan towards 100 miles and failed in the UTMB entry lottery. Both events are only one week apart and there is not much needed to reschedule the season's goal. I would recommend to all those who are saying due to failure in the UTMB lottery: don't say "well, maybe next year", but just keep on working towards a big 170 km event and give it a try on Monte Rosa's trails. It will be the best option for you to test your mental and physical abilities in a big race. You will gain a lot of experience and will learn new things about your body and mind. With all this you will take a huge boost of confidence and conclusions with you to your next training block towards UTMB.

UTMR doesn't have as much hype as UTMB does, but if you don't care about being into the Brazilian Festival-style mood then go for Ultra Tour Monte Rosa without any doubts and regrets. The trails and views around Monte Rosa are awesome!
Roman Evarts is from Latvia but trains in Switzerland(UTMB 2017 35th EVARTS Roman 24:58:48)
100 mile ultra in stages!
Remember another alternative to UTMB or UTMR is to race 100 miles / 170 km in 4-stages. Before the UTMB the course was run in stages apparently. The advantages are many: run in daylight hours, stay in mountain villages in comfortable hotels where you can eat well and socialise with other competitors, and you still cover the distance getting to run each stage harder or more fluidly that you would as an ultra.